DataFeeds - A Feed Monitor for Adafruit.IO
We are happy to announce that we have just released our first app in the App Store! It's free, available both on iOS and tvOS and it's called DataFeeds. It's an app that allows you to monitor your feeds from the Adafruit IO service.
Together with the release of the app we have also put in place a dedicated website, datafeeds.monohelixlabs.com, and published a demo video on YouTube to give everyone a taste of what the app can do.
The app allows you to view the current status of your Internet of Things data feeds, monitor the change of values over time, and use the app as a monitoring dashboard. All of this works on top of Adafruit IO, a service that can be used for datalogging and communicating to your IoT prototypes.
We found the Adafruit IO service very easy to get started with. However, we were missing the overview of our feeds when on the move. This is why we started building a mobile app, so we can have the feed status available anywhere and anytime.
Plus, we though it would be nice to have the information on the TV as well, so we can monitor for example the temperature in another room, or if for nothing else, provide a nice background to our techy living room.
We found that the Apple TV app can be useful when for example we've just finished the work on a prototype and want to check the results of our hard work by looking at the values that are being sent to Adafruit IO. Also, in one of our projects we have put some sensors in the fridge to check for the weight of the milk carton, and are periodically sending this weight to an Adafruit IO feed. With the app we can lay on the couch and just open the app to check if there's cold milk in the fridge.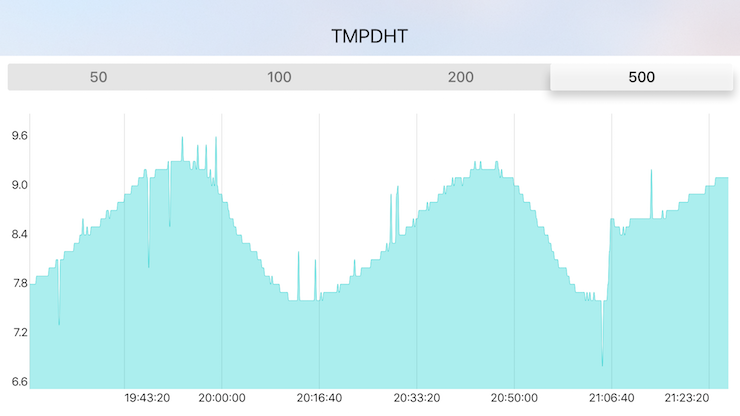 One of the fun features of our app is the possibility to assign an emoticon to each of the data feeds. You can decide to find the emoticons that resemble most the type of data collected (say this one:🌡), but we can't stop anyone to go wild and choose whatever emoticons they want for their feeds.
We hope you will enjoy the app as much as we enjoyed developing our first published iOS/tvOS app! Stay tuned for more content about the app and in general about IoT by following us on Twitter and YouTube.